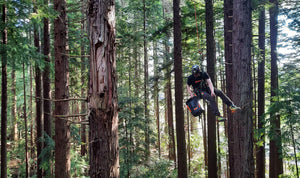 REECOIL is a leading Australian manufacturer designing with innovation, durability, and performance in mind.
What people are saying about us
It's great to know that Reecoil tool lanyards, tool tethers, and retractable lanyards are being used all around the world, by thousands of people working at height.
Whether arborist, rope access, or fall arrest situations.
Here is just some of their feedback...
This chainsaw lanyard is a great addition to your gear. As an avid user of other lanyards, this one combines all the benefits with a longer reach and a stay out of your way mentality.
Tony T
What a great product! It's everything it says it is and a great addition to any saddle.
-
Great lanyard, huge reach and very durable. A great quality product. Far superior to any other lanyard I've used.
Joel
I use this product daily! At first I thought it was a little pricey... it's definitely worth the money! No product like it!
Josh
Reecoil lanyards have been a huge game changer. I won't use anything else...
Jim T
A great chainsaw strop with a great amount of reach. Good carabiner positioning and good quality material.
Brent T