5 - HARRISON ROCKET
Solid and rapid.
Price: Approximately $40.00 [AUD]
Availability: International
Weight: 8, 9, 10, 12, 14 & 16 oz
Colours: Various - including limited edition special runs
WHAT IS IT?
The original high quality throw weight from three times New Zealand tree climbing champion and World class competitor Andy Harrison. Andy is keen to emphasise that whilst he carries out the analysis and testing of the product, his wife is very much responsible for the manufacturing. The attention to detail and durability in this hand made product is outstanding. If ever there was an example of a product made "by arborists, for arborists" then this would be it.
HOW DO I USE IT?
Equally at home being thrown manually or for use in a Big Shot or APTA, 12 oz or above is the best for a good fit inside an APTA barrel. Users will notice that the high strength and extremely compact D-ring snags on small branches far less readily than larger ringed alternatives. The densely packed internals also help for an aerodynamic & precisely targetable bag. A solid attachment loop on the bottom of the bag allows for quick attachment to the climber's line with a small karabiner, meaning that the bag does not require removing from the throwline. The newly available 9 oz bag fills the niche between 8 & 10, allowing for a bag which can be thrown to a decent height whilst having enough weight to overcome stem friction & return to the climber effectively.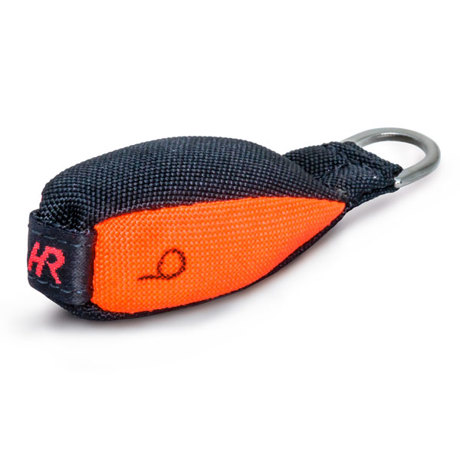 4 - SILVER BULL TRAUMA KIT
Life saving gear.
Price: £63.96 [GBP]
Availability: UNITED KINGDOM - (ask TREEKIT about international delivery)
Weight: Approximately 250 g
Colours: Orange
WHAT IS IT?
Mike & the guys at Silver Bull have combined a Combat Application Tourniquet (CAT) and a six inch emergency bandage (often referred to as an Israeli bandage) into a compact and waterproof package which can easily be opened with one hand. It's great to see such a good example of insight driven design providing a solution to an essential safety requirement. Although this one pushes the $100 limit somewhat (depending on exchange rate), it was too good a product not to make the list. Besides - how can you put a price on safety?
HOW DO I USE IT?
The CAT & emergency bandage are stored vertically in the pouch which is installed on the climber's harness. Ease of access with one hand is crucial in an emergency situation where a catastrophic haemorrhage is involved. Just pull on the black velcro tab from the bottom to open the pouch, then pull on the red tether to lift the two items out of the pouch. Hopefully you never have to use it but if you do then these few seconds could mean the difference between life & death.
Every now and then a product comes along that means you can't remember what things were like before it. This sets a new standard for arb specific personal first aid kits.
3 - NICK ARAYA'S SPLICING SERIES
Never stop learning.
Price: $49.95 [USD]
Availability: International [digital download from treestuff.com]
Weight: N/A
Colours: N/A
WHAT IS IT?
There are many online videos teaching you how to splice, many of them are free and as a reference tool they're great. However, in terms of arborist specific, clearly presented, quality content, the choice is far more limited. If you've never spliced anything and want to learn, this is the perfect place to start. With the reduced price of $49.95 USD (originally $99.95) this is great value for money and you can't lose or break it!
HOW DO I USE IT?
Once you've made the purchase you will receive a link to a digital download (no physical copy available). From here you can stream any of the videos in the series, it's probably best to give each video a full watch before you attempt the splice. Then you can follow the video whilst attempting the splice. Aside from all the benefits of being able to create your own rope tools, splicing will really help improve your understanding of the materials that you work with every day.
2 - ROCK EXOTICA TOTEM
Versatile by design.
Price: Approximately $60.00 [AUD]
Availability: International
Weight: 128 g
Colours: Pale Blue (occasionally black/grey)
WHAT IS IT?
Way more than just a figure eight, the Totem was designed with the intention of being the most versatile rigging & rappelling tool available. If you subscribe to the notion of "everything on my harness should do more than one thing" then this is the tool for you. Rock Exotica have stuck to their strengths by CNC milling the whole item from one piece of oversized aluminium. The result is a precise, smooth & solid item with curves where you want them and flat surfaces where you don't.
HOW DO I USE IT?
Versatility really is at the heart of the Totem's purpose. Possible uses include as a rigging plate, figure eight, sticht plate, auto-blocking plaquette device and many more. Arborists will love it for descending during spar work, SRT stem redirects or as a friction device for a lowerable basal anchor system. Originally designed with canyoneering in mind, the field of use for the Totem is now significantly larger than just one industry. You will find a use for it in arboriculture, industrial rope access, rock climbing, mountaineering, caving, rappelling and search & rescue.
1 - DMM XSRE
Tiny but tough.
Price: Approximately $20.00 [AUD]
Availability: International
Weight: 8.1 g (!)
Colours: Various
WHAT IS IT?
An accessory karabiner but not as you know it. An incredible 4 kN rating (MBS) makes this little guy really punch above his weight (literally). Yes that's a 400 kg static load before you break a piece of aluminium weighing less than ten grams. A hot forged I-beam construction provides strength whilst keeping weight to a minimum. The symmetrical oval design makes for perfect orientation every time and the key lock nose minimises rope snagging.
HOW DO I USE IT?
Great for any conventional non PPE attachment purposes, including but not limited to: small tools, key rings and tending points for SRT devices. Where these excel is for PPE related tasks which therefore require a good amount of strength without racking up the weight. For example: attachment points for neck elastics, knee ascenders and foot loops; they're also effective as a means of locking foot ascenders onto the rope so you can't slip out. Perfect for connecting throw-bags onto your climbing line and just the right size for retrieval of many cambium saver type devices. If you're ever worried about strength then you can double up and reverse one for extra security.
NOT FOR PPE
You obviously love Reecoil products (that's why you're here). If none of those "out of the box options" helped, and you're still stuck for Christmas.
Take 15% off these:
 With Code: "15%OFF" & Free Shipping in Aus
Happy Christmas and Happy Climbing! :)